About Our Products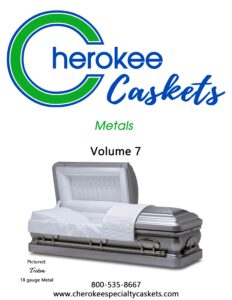 Click image above to view catalog.
Cherokee Specialty Caskets is a proud distributor of Covington Caskets and Astral Industries. With international influences in the marketplace,  these companies have gone to great lengths to keep their prices low and their quality high.  They take great pride in inserting a "Made in the USA" card in each casket.
Cherokee Specialty has searched the funeral industry to locate the highest quality and most economical oversize caskets, vaults, air trays and combo trays. We stock oversize  28″ and  32" non- gasketed metals. An economical oversize option is the cloth covered fiberboard casket up to 33". Special Order options on 33″, 36", 40" and 44" oversized gasketed metal caskets.
---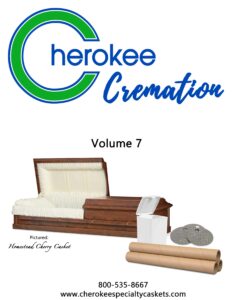 Click image above to view catalog.
By combining the skills of traditional craftsmen and the use of state-of-the-art woodworking machinery, C.J. Boots Casket Company now manufactures only the highest quality Solid Hardwood Caskets. Cherokee Specialty has these beautiful caskets proudly displayed in our showroom.
In our search for economical burial and engineered wood products, Cherokee found the perfect choice for metro Atlanta funeral homes, Starmark and Vision Caskets. They offer economical burial and cremation products in lightweight corrugated fiberboard and wood cloth covered caskets as well as engineered wood veneer caskets.
---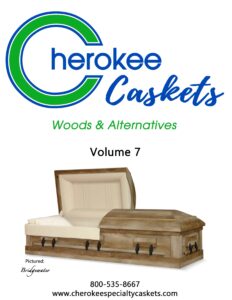 Click image above to view catalog.
Cherokee Specialty Caskets has the cremation products that are required to meet the 21st century demands. Starmark and Vision offers economical cremation products in lightweight corrugated fiberboard, cloth covered products and engineered wood caskets to meet the needs of families choosing cremation. Special Order Options for Rental Casket in metal or wood. Rental Inserts for rental caskets by most manufacturers are in stock.
---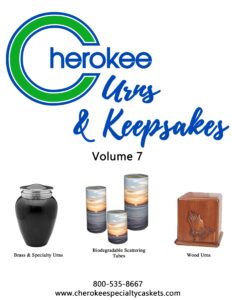 Click image above to view catalog.
Cherokee Specialty offers a variety of urn and keepsake options from the top manufactures in the funeral industry. Metals in various shapes, styles and colors, wood urns with amazing laser work and inlays, biodegradable urns made from recycled paper and salt, are just a few of the urns and keepsakes that are in stock. Temporary urns with mailers and scattering urns in various colors and designs are very popular options for crematories.
---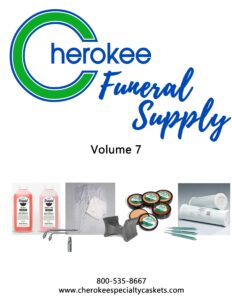 Click image above to view catalog.
Cherokee Specialty stocks Frigid fluids and other manufacturer's supplemental items for embalming. We have a variety of vendors for the prep room supplies. View the pdf catalog above; contact us at 770-227-4435 for additional products. We are constantly striving to locate the most economical and highest quality options to offer funeral homes in our area.
---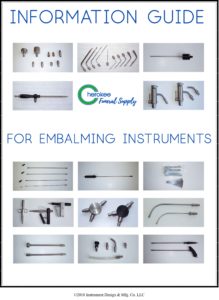 Didn't find what you were looking for?
Cherokee is a proud distributor of Instrument Design and Manufacturing Company. They specialize in the manufacture of embalming instruments and related products. The catalog above is full of helpful information on embalming products you may not have been able to find on our website.
Cherokee Pawprints is a division of Cherokee Specialty which specializes in quality memorial products. We offer a variety of caskets, urns and monuments to express your love and memories of your devoted pet. We are a distributor for LoveUrns® Pets cremation urns and jewelry and manufacture cloth covered wood & economy pet caskets. Click the image above to download their catalog.